1930s
From Kustomrama
Streamlining was generally seen as the most modern of styles in the 1930s. Being a popular expression of machine art, it signified a continuing belief in the beauty and function of the machine. Streamlining was also a sign of faith in science and technology and a sign of confidence in the idea of progress at the height of the Great Depression. Especial popular in America, streamlining was applied to everything from pencil sharpeners to automobiles. Influenced by the smooth designs of contemporary airplanes like the Douglas DC-3, streamlinging represented a shift in the machine aesthetic from an emphasis on machine parts like gears, screws, and pistons, to a focus on the skin of the machine.[1]
Customizing in the 1930s
Due to the great depression taking place, it wasn't common for a teenager to have his own car in the 1930s. If you were lucky enough to have a car, you took care of it, and didn't trade it off because the fashion had changed. One such lucky teenager was early custom pioneer Frank Kurtis. Frank, who was manager of Don Lee's Los Angeless Coachworks, owned a 1928 Ford Model A Roadster that he had bought new. The car was somewhat restyled, featuring a chopped top and windshield. When the 1930 Fords arrived at the showrooms, Kurtis quickly made deal for a set of fenders. The 1930 Ford fenders were longer and more graceful, and called for more car. Frank mounted the A-Bone's transverse front spring on a perch in front of the crossmember, race car style. With a longer wheelbase, Frank face lifted the old Model A with an extended the hood, home fabricated radiator shell and grille. He installed Cadillac headlights and 18-inch wheels. Franks's Model a Custom was quite sensational for its time. There was nothing "hung on" it, except for a spotlight, and a new trend in smoothing the lines of stock cars was emerging.[2]

George DuVall was another early custom pioneer. A custom trend in the early 1930s was to build bizarre and unique grilles. The 1932 Ford radiator shell and grille became an immediate best-seller for transplanting to any car, as did the 1934 Ford grille which could be reworked into the popular heart shape. Working for Southern California Plating Company, George DuVall began creating custom bumpers and grilles, mostly for Depression-era Fords. At the time it was a relatively inexpensive way to give people luxury Cadillac style when a Cadillac was a luxury few people could afford.[3] George DuVall is best known for designing the V'd and swept-back DuVall windshield. Completed in 1936, the Southern California Plating Company's 1935 Ford delivery truck was the first car that wore a DuVall Windshield. The first recognized instance of a DuVall Windshield on a hot rod dates back to the early 1940s, when Jimmy Summers installed a windshield on Jack Dorn's 1932 Ford roadster.[4]

The smaller diameter, larger tired wheels, which would fit earlier models were also sought after by early customizers. Lowering the cars became more common, along with esoteric considerations as white leather upholstery and headlining. With the emergence of the flared fender came the fender skirts, followed immediately by the fender skirt lock. The "nosed-over hood", "planed deck" and interior release latches came on about the same time and grew in popularity.[2]

As production cars put the radiator filler cap out of sight, everyone wanted an alligator-style hood that led to a solid front and dropped grille. By the mid-1930s, customized cars had started to pop up all over the United States. As the 1930s drew to an end, the move toward enclosure of all parts and other customizing methods were aimed at smoothing, cleaning and sharpening the stock lines. Work was often done on 1937 through 1939 Fords and Chevrolets. In the early days of customizing, it was mostly open cars that had been preferred. By the end of the 1930s, sedans and coupes were also more often customized, especially club coupes.[2]

Following the emerging streamlining trend, early customizers such as Jimmy Summers and Harry Westergard would lower the rooflines, smoothing contours, stretching and lowering the body on Fords and Mercurys into shapes closer to a teardrop. The cars were restyled to resemble coach-built European and American cars, sharing shapes with streamlined locomotives such as the Commodore Vanderbilt.[1]

As chopped hot rods and customs became more regular on the streets of Southern California, the usual yardstick for determine ow much window area to leave was a giant malt or soda glass. If you could get a barely full malt glass through the window while parked at a drive-in, the top had been chopped right. With the new lowered steel tops came new sensitivity to interiors, and upholstery shops started to make good money from stitching up splashily colored materials.[2] In 1935, the first non-folding padded, smooth lined "Carson Top" was built by Carson Top Shop employee Glen Houser. The top was built for a 1930 Ford Model A Convertible. The design's popularity quickly grew and the Carson Top Shop became very busy making Carson Tops for countless customs and hot rods. The Carson Tops were so nicely done inside and out, that the renovation of the seats and trim became the primary step in many expressions of individuality.[2]

According to Motor Life May 1955's story on the birth of customizing, one of the most popular custom touches in the 1930s was the inset license plate. This trick was supposedly first performed by Frank Kurtis on an Airflow DeSoto in 1936, and the stoy claims that this feature more than any other feature marked the "California Car" back then.[2]

By the late 1930s, customized or restyled cars could be spotted anywhere in Southern California. Lowered, de-chromed, with smooth hood and deck, set-in plates and maybe a chopped top. The lines of a custom car created an impression of speed. It was the look of the future.[2] The trend had also reached the east coast by now, and Bob Hart's 1932 Ford Roadster, who was built between 1938 and 1939 is one of the first known east coast customs. It looks like Bob got much of his inspiration from cars such as Southern California Plating's 1931 Ford Model A Delivery Truck.
Metallic Enamels
Metallic enamels became available in 1935. That was according to George Barris the medium used on most of the early customs. The colors were simple. Maroon was the most popular, but green and blue were also used.[5]
Dry Lakes Racing
Harry Reinhert began attending dry lake races in 1931. According to him, the first meets were small. "There were anywhere from fifteen to twenty-five cars, thirty at the most, out there - a few motorcyclists too." Dry lake activities for amateurs were spontaneous and informal. Sometimes you could meet a handful of gearheads to talk to and race against, other times you might not find anyone there. If you found someone to race, you raced without rules.In 1931 one of the first known organized amateur speed trials was held at Muroc. It was sponsored by Gilmore Oil Company of Los Angeles. The driving force behind the event was George Wight, the owner of Bell Auto Parts. George realized that something had to be done to coordinate the haphazard dry lakes meets. He got Gilmore Oil Company to sponsor the speed trials if the hot rodders could come to an agreement regarding rules and regulations. Early in 1931 Wight sent letters to rodders in the area inviting them to an organizational meeting to be held in East Los Angeles. The rules that were made were fairly simple in the beginning. In the interest of fairness, classes were established according to engine type: Model T flatheads, Model T Rajos, Model T Frontenacs and Chevrolets, Model A flatheads, and Model A overhead valve conversions. Supercharged cars were not allowed to compete. The first organized meet was held March 25, and the second was held April 19, 1931. The speed trials were open to all cars within the designated class. A pace car would start up a dozen racers at a time. At around 50 mph the pace car would drop back and the racers would continue to accelerate to the finish line. No "wildcat warmups" were allowed, and any car that jumped the start would be given a penalty of a hundred foot handicap when the race was restarted. The need for safety was recognized, and cars returning from a speed run were limited to 40 mph. The cars ran as a group, and the two fastest cars from each class were eligible to run in the open competition from which a single winner would emerge. No records exist of the two Gilmore sponsored runs held in 1931, but it has been documented that Ike Trone won the Gilmore trophy for first place in the Main Event at the second met on April 19th. Ike ran a fenderless, stock bodies 1929 Ford Model A roadster with a Riley head.[6]

Before the 1931 season ended, the Muroc Racing Association had been formed, complete with officers and a race program. It collected a one dollar entry fee which was used to meet the expenses. The same year the Purdy Brothers developed an electrical timer to clock the cars speeds. These two helped formalize the meets radically.[6]

The quest for speed in the 1930s involved automobile companies as well as individuals. During the summer of 1932 Auburn made several speed runs at Muroc. A stock V-12 Auburn speedster covered the flying mile at 100 mph, and posted an average speed of 88.95 mph for a 500 mile run to set a new track record. In 1932 Ab Jenkins removed the fenders and windshield from a Pierce-Arrow V-12 roadster, and without factory sanction, drove around the ten mile diameter track at the Bonneville Salt Flats for 24 hours. He averaged at 112.93 mph, setting a new record, but it remained unofficial because of a dispute between driver, manufacturer and the AAA board. In 1933, Jenkins returned to the salt as a special consultant on high speed performance for Pierce Arrow. He encouraged the factory to bore the V-12 to 3 1/2", giving it a displacement of 462 ci. He bought a new V-12 convertible coupe that was specially geared for top end. Driving it around the same ten mile track for 24 hours, Jenkins turned an average speed of 177.77 mph. This meet was sanctioned by AAA, and it recorded that he broke 66 American and 14 world stock car records. Jenkins, who later became mayor of Salt Lake City, wanted to promote the salt as a speed course superior to Daytona Beach, and used his own money to make a three reel film of his 1932-1933 speed runs. Jenkins sent copies to Sir Malcolm Campbell and Reid Railton, who were known as the British speed kings. In 1934 the British invaded the salt. Record attempts were made by Campbell, Railton, John Cobb and Captain G.E.T. Eyston. When Cobb set a world record of 352 mph, Eyston drove 357 mph hours later and broke it. Suddenly speed was in the air, and Bonneville had become the center of straight line record attempts.[6]

In 1934 Ab Jenkins returned to the salt with a creation built on Pierce-Arrow V-12 chassis. The chassis was fit with a streamlined racing body and a large tail. The big British cars achieved speed through brute horsepower, using aircraft engines. Jenkins hopped up the V-12 by adding a homemade six-carburetor intake manifold. The heads were milled to increase compression. These modifications upped his horsepowers from 175 to 235, raising his average speed to 127.29 mpg. In 1935 he built a special supercharged Duesenberg, and in 1936 he built the famed Mormon Meteor. With the Mormon Meteor Jenkins brought back all the world record between 50 miles and 48 hours inclusive to the U.S. His speed for 24 hours average was 153.82 mph, and for 48 hours 148.64 mph. Jenkins continues to run the Mormon Meteor, and during the next few years he set more than 25 new records.[6]
Hot Rods of the 1930s
The Glen Smith Special
Jack Engle's Ford Model T Roadster
Julian Doty's 1923 Ford Model T Roadster
Pete Clark's 1925 Ford Model T Roadster
Jim Woods' Ford Model T Roadster
Al Hawkins' 1927 Chevrolet Touring
Glen Wall's 1928 Chevrolet Coupe
Duke Hallock's 1928 Ford Model A Roadster
Ike Trone's 1929 Ford Model A Roadster
Karl Orr's 1929 Ford Model A Roadster
Harry Reinhart's 1930 Ford Model A Roadster
Julian Doty's 1931 Ford Model A Roadster
Robert Stack's 1931 Ford Model A Roadster
Bob Minor's 1932 Ford Roadster
Bob Westbrook's 1932 Ford Roadster
Dick Noble's 1932 Ford Roadster
Bob Minor's 1934 Ford Tudor

Custom Cars of the 1930s
Frank Kurtis' 1928 Ford Model A Roadster
George DuVall's 1929 Ford Model A Roadster
Frank Kurtis' 1931 Ford Model A Roadster
Southern California Plating's 1931 Ford Model A Delivery Truck
Bob Hart's 1932 Ford Roadster
Glen Wall's 1935 Ford Phaeton
Southern California Plating's 1935 Ford Phaeton
Tommy the Greek's 1936 Ford Phaeton
Rudy Makela's 1936 Pontiac
1937 Kurtis Tommy Lee Special
The Phantom Corsair
Marquis Hachisuka's 1937 Lincoln Zephyr
The Don Morris Special
Bill Hughes' Roadster
Link Paola's 1940 Ford
Albrecht Goertz' 1940 Mercury Coupe

Sport Customs of the 1930s
Nordic Special Racers of the 1930s
Greger Strøm Special No. 1
Greger Strøm Special No. 2

Speed Shops of the 1930s
Custom Body Shops of the 1930s
Indianapolis Power Hammer Works Inc
Link's Custom Shop

Custom Car Builders of the 1930s
Frank Kurtis
George DuVall
Jimmy Summers
Link Paola

Hot Rod and Custom Car Clubs of the 1930s
Albata
Glendale Sidewinders
Gophers
Hollywood Throttlers
Hot Iron
Kings Men
Mercuries
Night Flyers
Outriders
Pacemakers
Road Runners
Santa Monica Low Flyers
Throttle Throbbers

Dry Lake Meets of the 1930s
Muroc March 25, 1931
Muroc April 19, 1931
Muroc Roadster Races June 14, 1931
Muroc Roadster Races May 15, 1938

References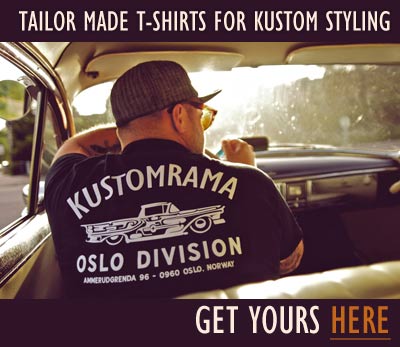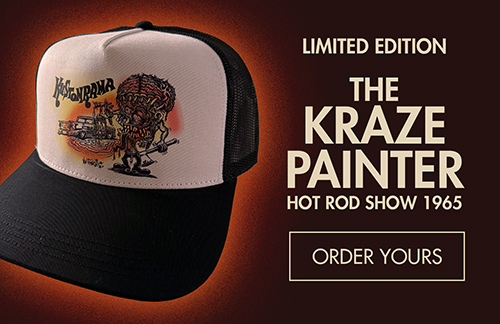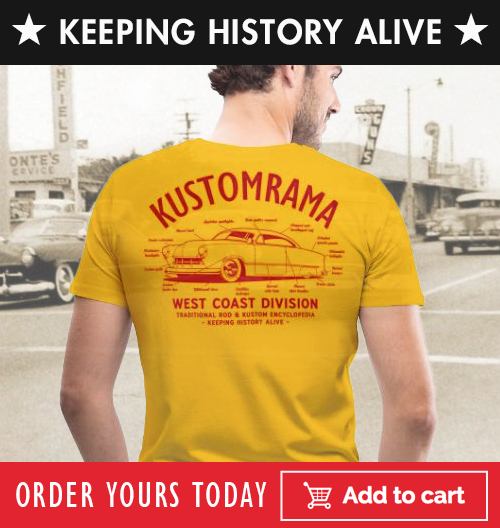 Did you enjoy this article?
Kustomrama is an encyclopedia dedicated to preserve, share and protect traditional hot rod and custom car history from all over the world.
Can you help us make this article better?
Please get in touch with us at mail@kustomrama.com if you have additional information or photos to share about 1930s.



This article was made possible by:
SunTec Auto Glass - Auto Glass Services on Vintage and Classic Cars
Finding a replacement windshield, back or side glass can be a difficult task when restoring your vintage or custom classic car. It doesn't have to be though now with auto glass specialist companies like www.suntecautoglass.com. They can source OEM or OEM-equivalent glass for older makes/models; which will ensure a proper fit every time. Check them out for more details!

Do you want to see your company here? Click here for more info about how you can advertise your business on Kustomrama.