Frank Kurtis
From Kustomrama
'Frank Peter Kuretich, born January 25, 1908, in Crested Butte, Colorado, was the oldest child of Francika Andrew Kuretich and Appolonia Mary Kuretich, a Croatian immigrant couple. Frank's father, Francika Andrew Kuretich was born in Rzerto, Croatia in 1884. He was the son of a jeweler, but decided to become a blacksmith by trade himself. Following his elder brother, Francika emigrated to America around 1902. Altough his family name was originally spelled "Kuretic", the immigration officer made a mistake and wrote it down as Kuretich. After coming to America, Frank's dad settled down in Pennsylvania working in a mine. From the mining district of Pennsylvania, Francika and his brother Mijo, headed west to eastern Utah. On April 22, 1907 Francika married Appolonia Mary Kuretich in Sunnyside, Utah. Funny enough, Appolonia's last name was the same name as the officer at Ellis Island had given Francika five years earlier. Francika and Appolonia were not related though. From there they moved to the Colorado coal mining village of Crested Butte, where the Colorado Fuel & Iron Company had brought other Slavic miners. January 25, 1908, Frank was born in the Crested Butte coal mining village. After a while, Mijo anglicized his name to Michael, and Francika to Frank. After a bad fire in the Crested Butte coal mine in 1909, the mine was shut down for almost a year. In 1912 the miners went on strike, with violence on both sides. Faced with near ruin, Frank's parents left their new country and returned to Croatia. Early in 1914, the Kuertichs had another child, Mary. After living in Croatia for about a year, the Kruetichs returned to the United States in 1914, settling down again in Sunnyside, Utah. Another sister, Anne, was born there in 1915. Starting at the age of six, young Frank learned to work with metal in his father's blacksmith shop. When Frank started to work with his father, they worked with horses and wagons. It didn't take long time though before the automobile had reached the little mountain village. Ater about a year in Sunny Side, the Kuertich family moved on to the steelmaking city of Pueblo, Colorado. After working briefly in another blacksmith shop, Frank's father decided to put his savings into a partnership in a garage that serviced the automotive trade. After only a few months, Franks's partner left with most of the business' cash. The Kuertich's were broke again, and headed back to Utah. They settled down in Schonfield for a while, before moving on to Hiawatha, were Frank's brother Bill was born in 1919. Frank, who was 12 years old at the time, became a real helper in the shop, working with metal.[2]

In 1921, the Kuretichs family abandoned the Utah coal mining country and moved to Southern California, where the jobs were better. Shortly after arriving in California, young Frank got another brother named Andrew. Frank's father found work at Brokaw Auto Body Company, doing repairs while young Frank delivered dressmaking fabric on his bicycle for $15 a week. Frank quit school but took evening classes in the only subject that interested him, drafting and architecture. In 1922, Frank's father landed a job at the body shop of Don Lee Coach and Body Works, a shop specialized in building custom automobiles for Hollywood stars. At the time, Frank was 14 years old, but he was more than 6 feet tall, so he claimed that he was 18 and landed a job as a helper to his father at 75 cents an hour. The personnel office anglicized their names to Kurtis as it was easier to spell. One of the first jobs senior and junior Kurtis worked on at Don Lee Coach and Body Works was Fatty Arbuckle's 1919 Pierce-Arrow. Another early project was a special body on a Duesenberg chassis for Tom Mix. Frank would later move on to work in what he called the "squeak and rattle shop", tracking down noises in customers' cars by testing them on twisty Mulholland Drive.[2]

In 1925, at age 17, Frank started as an apprentice at Don Lee Body Works. Owned by Don Lee, Don Lee Body Works was one of the best custom coachwork shops on the West Coast. Kurtis could perform magic with sheetmetal, and it didn't take long time before he became manager of Don Lee's Los Angeless Coachworks, which Lee bought from J.W. Earl in 1918. As a result, Kurtis worked briefly with J.W.'s son, Harley Earl, who'd been Don Lee's chief designer before leaving for General Motors in 1927.[1]

After work, Frank spent much of his time building sporty roadsters for himself using whatever bits and pieces of auto bodies he could find. Before building a new car Frank made detailed drawings for his creations designed around the fenders, grille, or cowl section he planned to use. Most of the cars he built were speedsters, and all were open cars. He liked the boattail body because it looked like an expensive car.[3] In 1928, Frank bought himself a new 1928 Ford Model A Roadster. The car was somewhat restyled, featuring a chopped top and windshield. When the 1930 Fords arrived at the showrooms, Kurtis quickly made deal for a set of fenders. The 1930 Ford fenders were longer and more graceful, and called for more car. Frank mounted the A-Bone's transverse front spring on a perch in front of the crossmember, race car style. With a longer wheelbase, Frank face lifted the old Model A with an extended the hood, home fabricated radiator shell and grille. He installed Cadillac headlights and 18-inch wheels. Franks's Model a Custom was quite sensational for its time. There was nothing "hung on" it, except for a spotlight, and a new trend in smoothing the lines of stock cars was emerging.[4]

In 1931, Frank restyled a 1931 Ford Model A Roadster. Frank's roadster was fit with a grille shell very similar to a 1935 Ford shell, and it is believed that the 1935 Ford shell was heralded from Frank's roadster.[4]

In 1932, Frank left Don Lee, and opened up his own shop garage behind his house. Frank had a hard time making ends meet, and when the Don Lee company wrote offering him a better-paying job, he returned to Los Angeles early in 1935 to work at Don Lee Motors.[1] When Kurtis returned to California, the first job he got was to build two customized equipment trucks for Lee's Columbia Broadcasting radio stations in Los Angeles and San Fransisco.[2] The Radio Cars were mounted on Cadillac V-16 chassis and were stock the front bumpers to the back of the front doors where a streamlined body big enough for the radio gear and operators was faired in. The result was a very art-deco rig that had great promotion value for the radio stations.[3] His next build was a 1934 LaSalle boattail speedster for the son of Don Lee's manager, Willet Brown. Willet bought a b badly rear-ended 1934 LaSalle coupe that was brought into the shop, and asked Frank to reconstruct it as a boattail speedster. The build was completed in 1935 or 1936, and the result was stunning.[2]

In 1936, the first inset license plate was fashioned by Frank on an early Airflow DeSoto. This feature was widely copied later.[4]

Don Lee's son, Tommy Lee, was building three midget cars for that rapidly growing sport. Curly Wetteroth and Clyde Adams had started building the midgets, and Frank finished up the bodies for them, building radiator shells and hoods. In 1936, Tommy asked Kurtis to build a complete midget known as the Don Lee Bullet. Frank agreed, and this was the first complete midget he put together. Frank was unhappy with what he considered Tommy Lee's dictatorial ways, and he was also at odds with Willet Brown, so he quit the Cadillac shop in 1937 and went to work for he Hollywood Trailer Company instead. At Hollywood Trailer Company Frank built travel trailers. While working there, he learned how to handle and bend tubing for building vehicle frames. This was how aircrafts were built in the 1930s, and even though the trailers were covered in fabric or Masonite, Frank would apply the technique to racing cars with aluminum and fiberglass skins. After work, Frank continued to customize passenger cars and work on race cars.[2]

Although he had quit Don Lee's shop, Kurtis continued to work on Don Lee midgets. Tommy Lee's interest in midgets, brought him in contact with the Southern California racing fraternity, and it introduced him to the local hot-rodding community. In late 1936, after being exposed to drag racing and dry lake racing, Tommy Lee decided that he wanted to have Frank build him a custom auto that he could use both on the streets and on the lakes. He envisioned it as a streetable race car and an extremely sophisticated hot rod, and it should look at least as good as Willet's LaSalle. it should do him proud against the four-ports Rileys, and hot Fords that the kids in east Los Angeles were building. The Cord 810 had just come out, and Frank suggested that they should base the speedster's face on the new Cord. Tommy agreed.[1]

The Hollywood Trailer Company job ended in 1937, and Kurtis landed work with Howard Darrin, a well known designer of custom bodies. At the time, Darrin was working for a Los Angeles Packard dealer, building bodies much like the contemporary Britsh Jensen, on Packard frames. As Darrin's check for Kurtis' pay began to bounce, Kurtis went to work at the Joel Thorne Machine Shop in Burbank, California in September of 1937. Joel Thorne, a wealthy playboy, had hired Art Sparks for a "lifetime" job building his race cars. Clyde Adams was brought in to do the metal works on two cars to carry the Sparks-designed "Big Six" supercharged engines. Adams hired Kurtis to help part-time. As a part of the deal, Kurtis was allowed to use the Thorne building's loft to design and build midgets for his own customers. By the end of 1938, Kurtis was tired of the arrangement with Thorne and Adams, and moved out. He set up his own shop again behind the top shop on San Pedro Street.[2]

During the war years Frank managed the Joel Thorne Machine Shop. The shop was engaged in filling was contracts. In 1942, during slack times Frank turned out a little three-wheeler for Joel Thorne's personal transportation. The car was based on a 1937 Ford V8/60, and the first version had the Ford rear axle mounted in front with a single wheel at the rear for steering, to bypass the necessity of universal joints at the front axle ends. Kurtis changed this after his first trial run on the street with the bodyless chassis. Frank didn't realize that the rear end would have to swing wide to make a corner, and he was jammed in with the whole Lockheed change-of-shift traffic and he couldn't get room to maneuver out of the way. Back at the shop he redesigned the car placing the driver axle at the rear and installing a single moveable wheel at the front on fabricated suspension. Frank got the idea from the P-38 aircraft being built at the Lockheed plant in Burbank. The final car was called the "Californian". The Californian was a smooth-lined two-passenger roadster with vestigial rear fenders and a chrome grille at the front. The California was purchased by Gary Davis for about $2900. Davis redesigned and enlarged it, and used it as the basis for his Davis three-wheeler that he promoted in 1948. [3]
Frank Kurtis' Cars
Frank Kurtis' 1928 Ford Model A Roadster
Frank Kurtis' 1931 Ford Model A Roadster
Frank Kurtis' 1941 Buick

Cars Built or Restyled by Frank Kurtis
Don Lee Broadcasting System Trucks
Frank Kurtis' 1928 Ford Model A Roadster
Willet Brown's 1934 LaSalle Roadster
Southern California Plating's 1935 Ford Phaeton
1937 Kurtis Tommy Lee Special
Bill Hughes' Roadster
The Eugene Von Arx Special The Californian
Frank Kurtis' 1941 Buick
Tom Beatty's Belly Tank Lakester
The Kurtis-Kraft 3000 Series
Howard Keck's Fuel Injector Special

References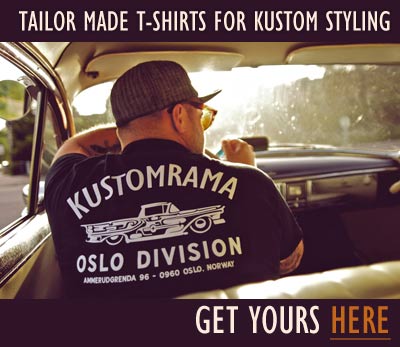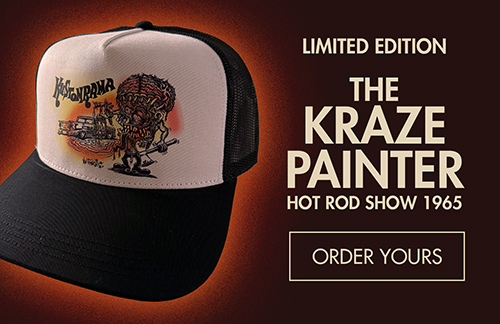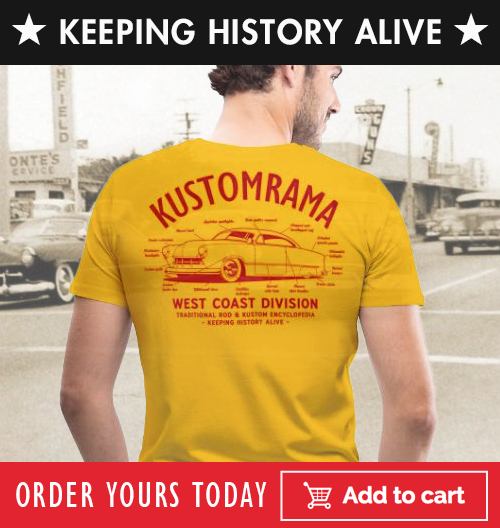 Did you enjoy this article?
Kustomrama is an encyclopedia dedicated to preserve, share and protect traditional hot rod and custom car history from all over the world.
Can you help us make this article better?
Please get in touch with us at mail@kustomrama.com if you have additional information or photos to share about Frank Kurtis.



This article was made possible by:
SunTec Auto Glass - Auto Glass Services on Vintage and Classic Cars
Finding a replacement windshield, back or side glass can be a difficult task when restoring your vintage or custom classic car. It doesn't have to be though now with auto glass specialist companies like www.suntecautoglass.com. They can source OEM or OEM-equivalent glass for older makes/models; which will ensure a proper fit every time. Check them out for more details!

Do you want to see your company here? Click here for more info about how you can advertise your business on Kustomrama.