Ina Mae Overman's 1952 Lincoln
From Kustomrama
1952 Lincoln Capri restyled by Valley Custom for Ina Mae Overman. Dick Flint's 1929 Ford Roadster was instrumental in bringing Ina Mae together with Valley Custom. Ina Mae and Dick's father, Larry Flint worked together as draftsmen for the City of Los Angeles Bureau of Engineering. She liked the work that was performed on Dick's roadster and decided to have Valley Custom execute her designs too. Larry Flint liked Ina Mae's Lincoln so well that he decided to buy one too. His Lincoln was a year or two newer than Ina Mae's.[5]
Ina Mae handed over her ideas to Neil Emory and Clayton Jensen. Ina had drawn the car to scale. The three piece rear window was replaced by a one piece 1953 Lincoln unit. The emblems and chrome ornamentations on the hood and fenders were removed for a cleaner appearance. The lower bumper was recessed three inches and painted in the same color as the car. A Kaiser grille guard was added to the upper front bumper. The vertically chrome moldings on the rear quarter panels were removed. The holes from the moldings were not filled, instead Neil Emory fabricated new moldings from 1952 Ford backup light bezels to simulate air scoops. Ina also wanted to have a continental kit installed on her car, and Neil and Emory extended the rear fenders 12 inches to cover up the continental spare tire cover from the sides. The rear bumper was narrowed three inches due to the body tapers inward at the rear. The Lincoln inscription on the license guard was pounded out, giving the guard a simpler look. A new license light bracket was made which was placed on the bumper instead of the continental kit. The eight exhaust pipes were routed through the simulated air scoops in the rear fenders. Modified 1951 Lincoln wheel covers were installed. The hubcaps were modified by attaching aluminum saucepans with 1953 Lincoln medallions. The car was originally painted two tone yellow. After the restyling it was repainted Buick Mandarin red with Nash Ambassador gold top. The interior was done in black and red leather.[6]

After driving the restyled Lincoln for about a year, Ina Mae came up with several new ideas for her ride, and she decided to have Valley Custom modify her car once again. This time the door handles were removed, and the doors were operated by electrical push buttons located in the insignia's located on the rear fenders. The straight trim spears were removed and replaced with sweap speer, and new radiused rear wheel opening were made. The gold top was left alone, but the body was repainted white.[7] 50 louvers were punched into the hood before the car was repainted. Ina Mae's daughter barely remembers when this was done, and according to her it wasn't done by Valley Customs. The second version of the car was shown at the 1954 Motorama. Around May 1956 the engine was hopped up by Carl Fleischmann of Fleischmann Automotive. Carl rebuilt the engine with various speed parts. Later on the same year the headlights were frenched, and the car was repainted gold. As with the two first versions, this version was also done by Valley Customs.[8]

After driving across the desert to Las vegas, the Lincoln was sandblasted, and Ina Mae had the front end repainted. The color didn't match, so Ina Mae had a friend repaint the car green metallic in the 1960s. The paint job was poorly done.[5] Ina Mae sold the car in 1962. Sometime after she sold the car, dual dummy spotlights were installed.[8]

In the early 1980s Lance Troupe of Simi Valley, Califoria bought the car; "I bought it at the Car Bazar up on Devonshire at the fair grounds. It is strange that the car was owned by a man that lived just a few short blocks away from me in Simi Valley, California. On the week ends I would drive over to a friends house for a visit and I would periodically see the car sitting in the street. I thought at the time I had seen the car on the cover of an old pocket size Hop Up magazine when I was a kid. So one day I saw it out on the street again and I stopped to take a look. The guy was cleaning out his garage and came out to greet me. He confirmed it was the car I thought it was and showed me the portfolio of the work sheets you have. I got very excited about the car and asked if he would ever sell it, he said maybe someday but for now he still enjoyed having it. From that time in the early 1980s I figured I would never get it, so I just forgot about it. About a year after I had talked to that guy about the car, I was looking for a car to buy and thought I would stop by the Car Bazar and see what cars would be there that day. Low and behold there it was, and the guy was sitting their next to the car trying to sell it. This was my chance and I asked how much, he said $4,500.00 takes it. Back then that was a bunch of money but I had his asking price and I didn't even try to beat him down. I asked if I could take it for a drive and sure enough he handed me the keys. I told him I wanted to take it over to my shop and give it the fine tooth comb over look and he said he will wait right there in is chair until I got back. I think I was gone about an hour. Once I got to my shop I called Dick Magoo who was directly across the street from me to come take a look and tell me what he thinks of the car. Dick told me he Knew Neil Emory and remembered the car too. Thats all it took for me, so I returned the car back to the Car Bazar, and the guy was waiting patiently for my return. Once back I told him I would buy it and if he would follow me home I would give him a ride to his house. When I took him home he gave me twelve trophies to the car, the magazines it had been in, and the portfolio of all the work done to the car by [[Valley Custom]]. I once looked up Ina Mae, she was so nice to me and so pleased the car was in good condition, she was also very glad the car had surfaced after almost 18 years of being stored. I understand she has passed away!"[9]

Lance owned the car for a couple of years; "While attending the Pomona, Corvette, Porsche, swap meet I had parked the car in preferred parking area. I was out finding a few more books the guy told me the car was in and wile returning to the car Neil Emory was standing next to it. I didn't know who he was at that time but after we got to talking he told me he built the car in the early 50's. He said the car was being worked on at the same time he had the California Dream truck was being built. You know the one that Spencer Murray has, yea that one. Neil asked me if I was wiling to sell the car, and I said maybe. He told me of a friend of his, Dave Christensen, who was a car collector out in Apple Valley, California was looking to add more cars to his already big car collection. So, one Saturday I went out to see Dave and he took me on the tour of his cars and he had about forty nice cars at the time, plus about, two hundred and fifty more various types that needed restoration. He was a horse swapper, and offered up about five different car from his collection in trade. I didn't care much for most of what he offered but this one 47 ford panel truck caught my eye. It was fixed up pretty nice and had a mustang 289, trans, and rear end in it, and painted Tan with Brown fenders. I thought it would be great for my Upholstery business, So I made the trade. Then one day I had the truck parked out in the street and Gene Winfield spied the truck on his way to work. He had just bought the shop right next to Magoo s, but it wasn't long after that, that his shop caught on fire and he was burned out. I believe Gene bought the panel truck from me for fifty-five hundred. I don't know what happened to the truck after that."[9]

The Lincoln was eventually sold by Dave's son when Dave passed way. It went through some bad hands, and it sat outside for a long time and was neglected. It was a real heartbreaker for Lance Troupe when he found out what had happened to the old Valley Custom car; "Sometimes the right cars fall into the hands of all the wrong people."[9]

In 2006 the old custom was listed for sale on eBay. The seller had bought it from a friend that he was helping to sell some parts for on eBay for. One day he went to a repair shop to pick up some parts and saw this beaten old Lincoln behind the shop. He was told it belonged to the guy he was selling parts for. He later asked if it was for sale, and he said it was. He had taken the car to this shop to have the Cobra Jet engine pulled out and replaced by a 390 cid engine. It was hacked up pretty good and the motor sat with no intake or valve covers. The new owner spoke with Ina Mae in the summer of 2006 about the car. The story that he was told about the car is that it sat in a factorys parking lot for many years, and the guy he bought it from had been bugging the factory owners to buy it. When he sold the car in 2006, there was a lot of invoices and magazines that went with the car. He also found a bill of sale from a salvage yard that the car was sold for $100 at one time. The car never left California until it was brought to Wisconsin around 2003. In 2008 the car was located in Wales, Wisconsin. The current owner had all the parts he needed to restore it correctly, but was not sure about what to do with it, as he felt the car deserved a Pebble Beach quality restoration.[5]

In the summer of 2008 the car changed hands, and it was sold to Larry Gesiakowski of Chicago, Illinois. The old custom appeared in the back of an American Rodder magazine while Larry owned it. Previous owner Lance Tropue saw it, and got pissed seeing it in the rusty condition; "It took me a wile and I found Larry's phone number and gave him a call. I told Larry I was the one who found the car after its long hibernation, and I had owned it for a few years and traded it off. He did not believe me until I told him I still have the original set of keys with a miniature tire with the initials I O on them, and I still had all the trophies. He was very interested in the trophies. I said I still have all the Magazine too but I would not part with them, but I gave him all the years, months, and magazine coverage it had appeared in. The trophy collection was very impressive for the times the car won shows. Many first places at Autoramas between 1952 and 1957. 1957 being the last show Ina showed the car I believe. Anyway, when Larry attended a car auction here in Phoenix, Arizona. he wanted to stop by and get the trophies If I was willing to part with them, I said yes I would sell him the trophies and that I had cared for them for over twenty years at that time I I thought they should go to that car. He agreed but didn't like my asking price of $200.00. He passed on the trophies and bid a far well. He should have bought them from me, I saved them all those years and I thought 200 was a smoking deal. I had priced other antique trophies and what he would have bought for 200 wasn't even a third of what they should have sold for to collectors. Anyway, after he passed on the sale, I tossed them in the trash can.[9]
Sold
In March of 2018 Larry sold the Lincoln to a new caretaker. The new owner, who wants to remain anonymous, had the car shipped to Manns Restoration in order to have it restored back to its 1956 iteration with the gold paint and rebuilt engine.
Magazine Features
Hop Up And Motor Life Magazine November 1953
Speed Mechanics January 1954
Motor Life December 1954
Car Craft May 1955
Car Craft May 1956
Rod Builder & Customizer August 1957
Motor Life February 1957
Trend Book 143 Restyle Your Car
Rod Action September 1975
Hot Rod Magazine March 2009

References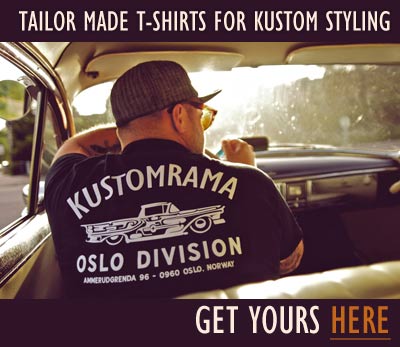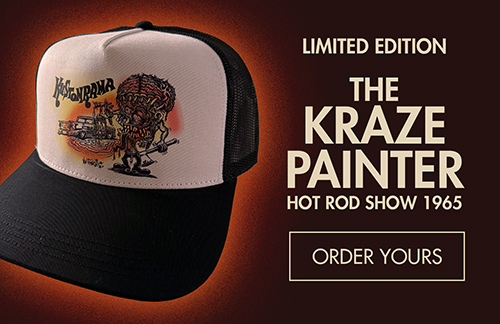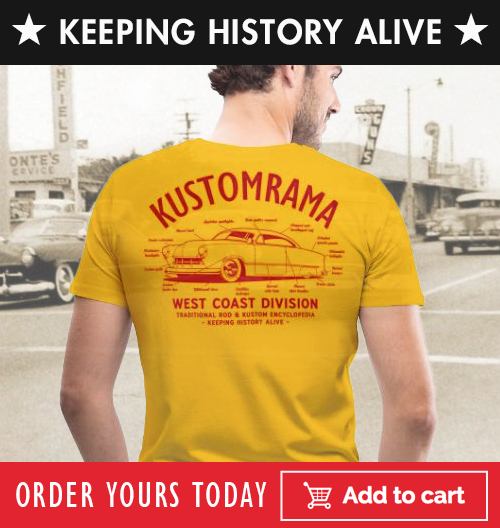 Did you enjoy this article?
Kustomrama is an encyclopedia dedicated to preserve, share and protect traditional hot rod and custom car history from all over the world.
Can you help us make this article better?
Please get in touch with us at mail@kustomrama.com if you have additional information or photos to share about Ina Mae Overman's 1952 Lincoln.



This article was made possible by:
SunTec Auto Glass - Auto Glass Services on Vintage and Classic Cars
Finding a replacement windshield, back or side glass can be a difficult task when restoring your vintage or custom classic car. It doesn't have to be though now with auto glass specialist companies like www.suntecautoglass.com. They can source OEM or OEM-equivalent glass for older makes/models; which will ensure a proper fit every time. Check them out for more details!

Do you want to see your company here? Click here for more info about how you can advertise your business on Kustomrama.