Sill Drivers
From Kustomrama
Sill Drivers was a Swedish hot rod and custom club established by Hans Broberg and Kjelle Gustad in the 1960s. The club was started just for fun, and the boys were often called "Sillarna".
In 1962, when he was just 8 years old, CG Björk moved into a house in Trollbäcken, close to Vendelsö, where Sillarna rented a garage. He stopped by almost every day, to see what the boys were up to. At the time, Sillarna, were 10 years older than CG.[1]
Diesel Thunderbird
In 2015 CG told Kustomrama that Sillarna had a lot of ideas; "One of them was that they decided to go to Southern Spain were Hasse's parents had a house. They found a red 1958 Ford Thunderbird suitable for the trip." Hasse believes they got the Thunderbird in a trade. It had a worn out engine and transmission. It was a long drive from Stockholm to Malaga, and the economy wasn't that strong as the boys were around 20 years old at the time. "They then got a bright idea," CG remembers; "They visited a junkyard in Stockholm where they bought a Mercedes-Benz van. It was an old bread deliver van, with a diesel engine. They removed the engine from the truck, before they sold it back to the junkyard again. Then they lifted the V8 out of the Thunderbird, and installed the more economic diesel engine, before they took off to Spain. All this happened within some days. When they returned to Stockholm, they swapped engines again. The only problem they ran into on the long drive was a broken generator belt. A funny thing happened in Germany. In Germany they always had the diesel pumps in the back of the gas stations, as it wasn't that common with diesel cars in Germany. Especially not Ford Thunderbirds. When Sillarna drove behind the station to fill up the tank, the fellow that worked on the gas station came out yelling, trying to explain that they were filling their tank with the wrong fuel. When they were done, they started the car and went away, leaving the man totally confused." In 2015 Hasse told Kustomrama that the car did maximum 90 or 100 kilometer pr hour.[1]
As time went by, Sillarna got a new work shop in Skarpnäck. It was a small, former junkyard, with some strange cars in the yard. After Sillarna moved out of their garage in Vendelsö, it was rented out to Palle Eriksson. When Palle went to South Africa, a guy named Janne Söderström took over the garage. Janne was a racer, and he raced a 1964 Chevrolet Nova that Matti Johansson bought later on to start his short racing career.[1]

One of the strange cars that was found in Sillarna's yard was and old Bentley, from the 1930s or so. CG remembers that the car was a pretty good shape; "One day Palle Eriksson stopped by. He saw the Bentley, and decided to buy it. He restored it and used it from some years. Heck, he even got a suitable dog, an Old English Sheepdog to fit in. Unfortunately the car ended in a ditch. Wrecked."[1]

After moving to Skarpnäck, Sillarna built a dragster.[1]
Pride
In 1965 Sillarna sold their cars and bought an old fishing boat named "Pride." CG remembers that it was about 30 meters long; "They started to rebuild it. In order to finance the rebuild, they started a club on the boat called "Club Batman". Around 1969 - 1970 the boat was ready for it's main mission; Sailing to the USA. Everything went well, and they sailed around in the Caribbean for some time, before they eventually sold the boat to some guys. The new owners put it on ground, and it sank shortly thereafter. With money from the sale, Sillarna they stayed in Florida, buying some cars such as a Corvette, a Shelby 500 convertible, and an old car looking like Grandma Duck's Detroit Electric. But I don't think it was Electric. These, and probably more cars, were stored at Ingemar Johansson's Motel. Ingemar was a former heavy weight champion they became friends with. At the same time, Palle and several other hot rodders decided to move from Sweden to Florida."[1]

When Sillarna returned to Sweden, CG had moved away from Stockholm. He moved back in 1985, and met them at a small yacht harbor named "Navis." They were now mostly into boats, and went on to buy a wharf in Saltsjö Boo. By then Hasse and Kjelle had sailed three times to the USA. After buying the wharf, Hasse began building Hot Rods again. They sold the wharf, and got a garage out at Orminge instead. In 1991 Hasse bought a 1932 Ford 3-window coupe. He bought it in pieces in Florida, and spent a year assembling it. The build was completed in 1992, and in 2015 he still owned it. In 2012 he built a fiberglass 1932 Ford roadster. Early in 2015 Hasse bought a 1932 Ford frame and a Swedish built steel body. The car will be built as a traditional hi-boy. In 2015 Kjelle was still searching for his never ending dream, a pick up he could turn into his own hot rod. [1]
Members
Club Cars
Hasse Broberg's Modified
Hans Broberg and Kjell Gustad's Dragster
Hasse Broberg and Kjelle Gustad's 1938 Chevrolet Convertible
Hans Broberg and Kjelle Gustad's 1957 DeSoto

References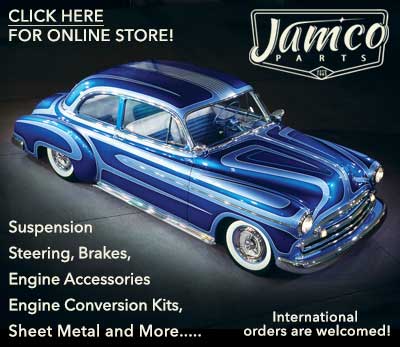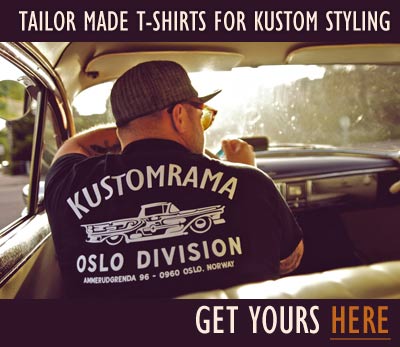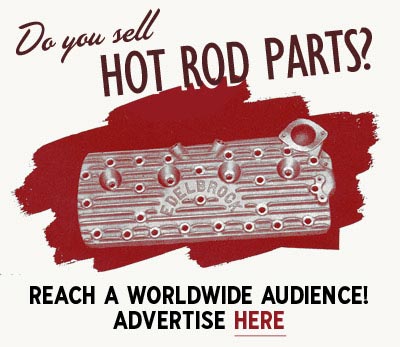 Did You Enjoy This Article?
Kustomrama is an online encyclopedia dedicated to traditional hot rod and custom cars. Our mission is to protect, preserve and share traditional hot rod custom car history from all over the world.
Help Us Make This Article Better
If you have additional information, photos, feedback or corrections about Sill Drivers, please get in touch with Kustomrama at: mail@kustomrama.com.