Gary Ruddell's 1958 Chevrolet
From Kustomrama
1958 Chevrolet Corvette owned by Gary Ruddell of Norwalk, California. Gary bought the car in 1960, at the time he was the President of the Seagrams of Norwalk car club; "It's 1960 and I pull into Scots, a hamburger drive-in where we all hang out, in Norwalk," Gary told Sondre Kvipt of Kustomrama in 2018. "I am in my '55 Pontiac and there is a Corvette parked there that I have never seen before. As I drive by, someone inside the Corvette puts their hand out the window and waves. I park my car and go over to see who it is. It's John, a friend of mine. He has just bought a 1957 Corvette and wants to take me for a ride in it. I have never been in a Corvette before so I want to see what it is like. It is a little tight inside but it feels good. I like it! We find an empty street and pull onto it and then John punches it. The acceleration pushes me back in my seat, wow! By the time he hits fourth gear, we are doing a 100 mph. Now, I am used to driving around 35 or 40, so what just happened has changed my life. I want to have one. I have put a lot of time and money in my Pontiac. It is going to be hard for me to sell it. But, I really want a Corvette. So, I sell it to a guy I work with and started looking for a Corvette. After a couple of weeks of looking, I find a nice 1958 Corvette and buy it. It is a 283 – 245HP with dual 4-barrels and a 4 speed transmission. When I leave Scots late at night to go home, there is a short stretch of road with open fields on each side. It has a dip in the road near the end. My goal is to see how quickly I can get to 100 mph from the stop sign and slowdown before I get to the dip. The speed this Corvette has is addicting."[1]
The Race
John and Gary talked off and on about who had the fastest car, and one day they decided that it was time to find out; "The plan is to race the following weekend. We will meet at Scots and drive to Dairy Valley, now Cerritos, to have the race. It is all dairy farms and we know there will not be anyone on the roads there late at night. This is my first race and I don't want to lose it. I haven't worked on the engine since I bought it. I take it to a speed shop and tell them about the race and have them tune it up. They replace the spark plugs, go through the carburetors, check the timing and a few other things. It is ready to go. It is Saturday night about 10 o'clock and time to meet John at Scots. I pull in and John is there waiting with some friends and some of the guys from the club who want to watch the race. We hang out a little bit talking about how long the race should be. Should it be to the first intersection or the second or until someone lets off the gas? We decide when someone lets off the gas, it seems reasonable at the time. It is time to go, so John and I get in our cars and pull out of Scots. We head to Dairy Valley with a caravan of cars following us. We get there and turn onto an old asphalt road and pull over to the side. It is a narrow two-lane road with drainage ditches and fence posts on each side. If we go in there at 100 mph, it's over. There are dairy farms along each side of the road and most of them are dark. There are no street lights, only starlight, and it's very dark. It's a cool night and the air is still. There is a layer of haze floating just above the pastures."[1]

"Someone drives down the road to make sure it's safe to race on. He comes back and he says it's clean and dry and there is no one on it. We decide it is time to go. Some of the cars drive down to the next intersection to watch the race and others stay behind. We get in our cars and John lines up on the right side of the road and I line up on the left. Sitting at the line I am starting to get a little nervous, my leg starts to go up and down and my heart starts to pound a little harder. I tell myself you need to focus, don't spin the tires, make clean shifts, bring my rpms up, but not too much, and take one final look down the road for any headlights. It's clear, there is no one on the road. I look at the starter and wait for the signal to go. There it is, we are off. First gear, second, third and fourth all clean with just a little spin of the tires at the start. John must have done the same thing because we are headlight to headlight, going 100 mph and just a couple of feet apart. A quick glance down at the speedometer and it says 105 mph. The fence posts along the side of the road are just a blur. I look over at John and we are still dead even. It's as if the world is flying by and we are standing still. I press harder on the gas pedal but it's tight against the floorboard. Another glance down and it's now 110 mph. We are going so fast I can only see a short distance in front of my car because it's so dark out. My headlights are not much help so I focus on the edge of the road and the white line. I can't go over either one. The wind coming in my windows and the sound from the engines is deafening and then it happened. I see John's car starting to pull ahead only by a few inches at first and then a little more. Now I see his front tire. I don't know if it is the right side of my brain or my left side but one of them tells me, it is over. I have lost and it is time to take my foot off the gas before something happens. As soon as I do, John disappears into the darkness. Then I see his taillights come on and I know he is OK."[1]

On his way back to Scots, Gary tries to figure out what has just happened. "I had spent all this money on a tune-up and now I had just lost. I had no answer. John and I never talked much about it after that and we never raced each other again. Many years have passed since that night and after watching a lot of NASCAR and learning about aero drag, I think I know why I lost. John had rolled up his windows and mine were down. Running side by side, all the air coming off his car was going into my car. It was acting like a parachute and it slowed my car down. Anyway, that is my theory and I'm sticking to it. John has passed away but maybe we will meet again someday and we can relive our race that night and I can tell him about my theory." About eight or nine months later Gary sold the Corvette and bought a 1960 Ford Starliner."[1]
References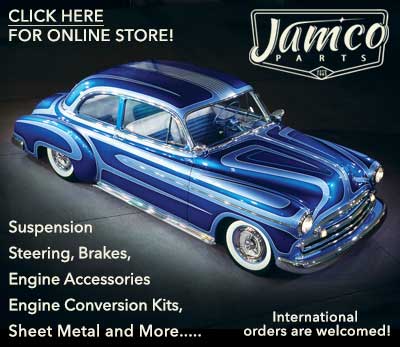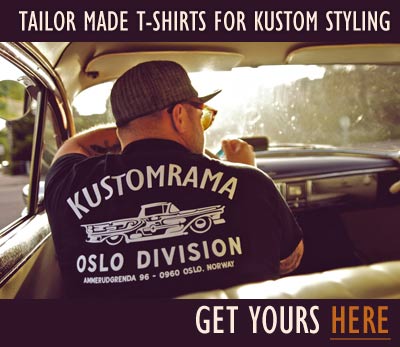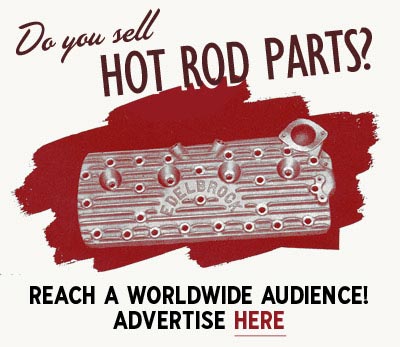 Did You Enjoy This Article?
Kustomrama is an online encyclopedia dedicated to traditional hot rod and custom cars. Our mission is to protect, preserve and share traditional hot rod custom car history from all over the world.
Help Us Make This Article Better
If you have additional information, photos, feedback or corrections about Gary Ruddell's 1958 Chevrolet, please get in touch with Kustomrama at: mail@kustomrama.com.