Dave Puhl
From Kustomrama

Dave Puhl was born in Ohio. Since his early teen years, cars was his major interest. Evenings and weekends were spent revamping the body as well as the engines of his own cars, using what ever tools were available in his Dad's garage. This was done in between his part-time jobs as mechanic and station attendent.[1]

Dave spent the 1956 and 1957 season racing stock cars at O'Hare Raceway, and although winning his share of trophies, he was drawn from the fender buckling back to the building.[1]

He reared in in Chicago, majoring in Industrial Arts, Dave's higher education at St. Mel was under the guidance of the Christian Brothers.[1]

Because of his practical experience and his natural knack with cars, Dave was hired at a Chicago body shop. Convinced there was a need for a decent custom shop in the area, Dave tried to share his enthusiasm with his doubtful but understanding employer. Possibly for this reason, Dave was allowed to work after hours in the shop on his own car. Heeding the occasional words of advice and encouragement, Dave built his first true custom car, a 1955 Ford Thunderbird in 1958, which went out to take the majority of trophies offered at all the local shows, not to mention the requests for custom work that began coming into the shop.[1]

Realizing how true his beliefs were, Dave opened his own shop, Trend Customs in Lyons, Illinois in the summer of 1960.[1] At the time, Dave was a member of the Bearing Busters of Berwyn car club. Finally, not just evenings and weekends any more, Dave now did custom work on a full time basis. During this period such show cars as "Brandy's Chariot" a 1936 Ford chosen one of the Top Ten of 1960; "Trendero" a 1957 Ford Ranchero - AHRA 1961 Custom Sweepstakes; and "Starfire" a 1954 Oldsmobile - 1962 NHRA Custom Sweepstakes, were attesting to Dave's ability as a custom builder and painter.[1]

In mid 1962, Dave moved to Wichita, Kansas, to take on the challenging position as Shop Foreman for one of the Country's top customizers, Darryl Starbird at Star Kustom Shop. While there, Dave's ideas and supervision helped produce such cars for Monogram Models of Morton Grove, Illionois, as the "Big T", "Big Duce", "Ultra", "Predicta II", and the 1963 Experimental winner "Futurista". Having the opportunity of working with a man he respected, Dave was reluctant, but decided to get back into his own shop.[1]

1964 saw Dave opening the doors of the House of Kustoms in Palatine, Illinois.. From those doors rolled such cars as the "XCell" a 1958 Ford Thunderbird - 1964 NHRA Best Custom; the "XTreme" a 1930 Ford - 1964 NHRA Best Rod; "Xaltered" a 1934 Ford - 1965 NHRA Competition Sweepstakes; "XTeec" a hand built roadster - 1966 NHRA Rod Sweepstakes", just to name a few. Because of the quality of the workmanship, the House of Kustoms twice received the coveted Body Shop Award, once in 1965 and again in 1966.[1]

In 1965, Dave's own designed and hand built "Illusion" won the 1965 Experimental Sweepstakes at the Indianapolis Summer Nationals. In 1966 it won the Sweepstakes at the Los Angeles Winter Nationals. After that it was leased out, touring the United States and Canada.[1]

In February of 1966 Dave was formerly invited to the 18th annual Oakland Roadster Show. Because of his creative design and craftsmanship, the automotive field paid honor to Dave's unique talents by electing him into the Automobile Achievement Association of America Hall of Fame. An honor reserved for those in any pursuit who have made a significant contribution to the automotive field. Dave was the youngest member at that time.[1]

Many of the Nation's top race car drivers came to Dave for a quality paint job. The House of Kustoms was solely responsible to the "All American" colors on the American Motors Trans Am race cars during the 1968 - 1969 race season.[1]

There were many unique projects that were undertaken at the House of Kustoms. During December of 1966, Dave designed and built a prototype of a new quarter midget race car for Detroit Engine Corporation. In September of 1967 Dave was asked to customize a new Javelin as a Rod & Custom Magazine project sponsored by American Motors, just 6 weeks before release date. Time was at a minimum, so Dave himself drove the restyled but yet unreleased Javelin to Los Angeles for its debut at the Hollywood Palladium. The project went so well, that Dave was approached a few months later to customize an AMX, which was introduced at the Oakland Roadster Show in February of 1968, on the same day the production AMX was unveiled to the public.[1]

During the Fall of 1968, working in conjunction with Brook Stevens of Milwaukee, Wisconsin, Dave took an AMX and built a rumble seat into it, making the prototype for the AMX-R.[1]

A devastating fire at the House of Kustoms on December 3, 1968, set Dave back. The tools and equipment accumulated through the years were gone along with 8 cars. Much seemed destined to come out of those ashes, for within a year, six of the cars were already replaced, and ground work had been laid and construction almost completed on Dave's idea, a true innovation in styling, a streetable mid'engined car named Phaze II. Along with an A.M. experimental engine and various parts, Dave used several hundred feet of tubing to form a space type chassis. Dave then formed 20 gauge sheet metal into his idea of the most advanced styled roadster body. Rod & Custom Magazine intensively covered the seven months of construction, so that anticipation was greatly felt as Dave introduced the Phaze II at the Oakland Roadster Show in February of 1970.[1]

One of the most "different" customizing projects performed by House of Kustoms found place in September of 1969, when Dave undertook the restoration of a 1932 Chevrolet truck into a checkout counter and a 1930 Durant Sedan into a lady's powder room, for the Chicago based woman's boutique, Garage Inc.[1]

For some time, Dave had a monthly column in Argus Publications - Popular Custom Magazine. Dave's free lance articles and photos did also find their way to Rod & Custom Magazine.[1]

Dave found exploring the wildness of Mexico a good way to "get away" from the pressure of the shop. In Mexico he experienced driving the tedious and grueling 1000 miles of Baja. When relaxing, Dave enjoyed a good fotball game. He also used the unique colors he developed at House of Kustoms in paintings that could be found gracing the walls of his home in the suburb of Hoffman Estates, Illinois were Dave lived with his wife Pauline and their three children.[1]
Dave Puhl's Cars
Dave Puhl's 1956 Ford Thunderbird- The Hybrid Bird
Dave Puhl's 1957 Chevrolet
Dave Puhl's Illusion
Dave Puhl's Phaze II

Cars Restyled by Dave Puhl at Trend Customs
Rich Vachata's 1936 Ford Convertible - The Beach Comber
William Block's 1936 Ford - Brandy's Chariet
Ralph Ferks' 1954 Oldsmobile - The Startling Starfire
Bob Dzemske's 1956 Lincoln Capri
The Trendero

Dave Puhl's Illusion
Dave Puhl's Phaze II

References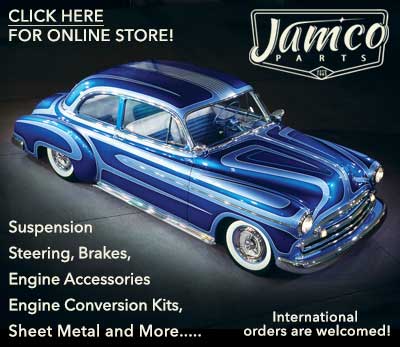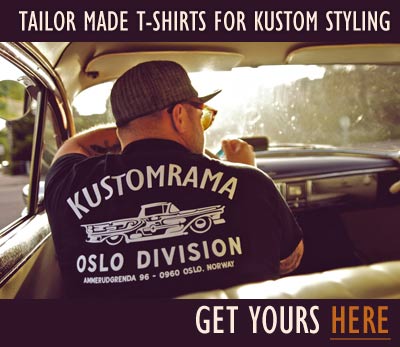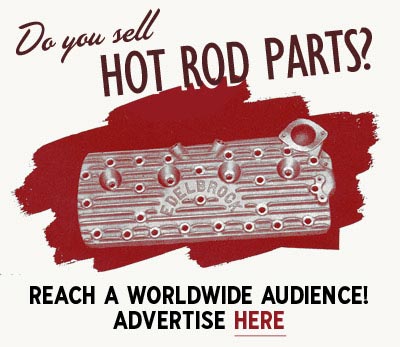 Did You Enjoy This Article?
Kustomrama is an online encyclopedia dedicated to traditional hot rod and custom cars. Our mission is to protect, preserve and share traditional hot rod custom car history from all over the world.
Help Us Make This Article Better
If you have additional information, photos, feedback or corrections about Dave Puhl, please get in touch with Kustomrama at: mail@kustomrama.com.