Larry Watson
From Kustomrama
Larry Watson (July 21, 1938 - July 20, 2010) was a legendary custom painter and pinstriper. In 1955, at the age of 16 Larry began his pinstriping career. His inspiration came from watching Von Dutch striping, while sitting on his bicycle outside of Barris Kustoms in Lynwood. One day his friend Gary McNaught came by the house and asked if he would come along down to Barris Kustoms and watch Von Dutch stripe a car. Von Dutch had moved his operation uptown working out of "The Crazy Arab's" Competition Body Shop at 7201 West Beverly Boulevard in Los Angeles, so instead it was Dean Jeffries doing his first striping for George Barris. The car he pinstriped was Johnny Zupan's 1949 Mercury. Larry stepped over the rope at Barris and asked Jeff where he had bought his brushes. Jeff answered "What do you want to do? Put me out of business?" At the time it was only Von Dutch and Dean Jeffries who applied what they called "Modern Striping." Larry answered that he just wanted to stripe his own car, but Jeff still wouldn't tell him. Larry went to an art store and bought some brushes, and he went to Jackson Paint Store and bought some copper paint. He spent the next two days striping his 1950 Chevrolet, the Grapevine. Once completed he drove his newly pinstriped Chevy over to the Bellflower Clock Drive-In where everybody wanted to know how the hell he could afford a Von Dutch artwork on his car. He told them he had done it himself. Nobody believed him, they even thought he had had Von Dutch sign Larry's name on the striping. Harvey Budoff called the bluff and pulled into Larry's driveway with his car one day after school. Larry finally found out where Von Dutch bought his brushes and paint. It was in a little store down on Compton Boulevard, west of Long Beach Boulevard in Compton. Harvey Budoff's 1950 Ford was the first car Larry pinstriped for a customer. After visiting the store he bought some German brushes and white 1-shot. He spent the whole day pinstriping the car. He put an eyeball on a spoon with blood dripping out of the spoon in the back of the glove box. Larry didn't tell Harvey about the artwork, but his girlfriend eventually found it. After that Larry was the hit of the drive-ins, and every time he got home from school there would be three or four cars sitting in the driveway ready to be striped. Among the most notable cars being pinstriped in Larry's driveway is Duane Steck's 1954 Chevrolet - The Moonglow.[2]

Larry applied his first flame paint job on Buzzy's Ford. Von Dutch was doing crab-claw-style flames, so that's what Larry also did. Walking back and forth to get the flames symmetrical, the paint job took 6 hours. After Buzzy cruised the Clock with his newly painted Ford, other people also wanted Larry to lay flames on their cars. After painting a brand new 1956 Oldsmobile he laid in bed thinking about what he could do in order to make the job go faster, he was tired of the 6 hours work it took. Laying in his bed he hit upon the idea of using with tissue paper and a bright red china marker. That was it, after that it took only 2 hours. In 1956 Larry shot his first metallic paint job and his first scallop job. The first car he scalloped was Bob Schremp's 1954 Chevrolet. Bob had Branson Auto Body in Artesia paint his car. During the job they put a run underneath the trunk and one on the hood, so he turned to Larry and asked if he could cover the runs up. [2]

Upon graduating from school in September 1957, Larry opened his first shop Watson's House of Style in north Long Beach, California on Artesia Boulevard. Larry decided that he wanted to start a new trend: customizing with paint. In order to promote his new trend, Larry bought a brand new 1958 Ford Thunderbird that he took to Barris Kustoms for some mild modifications. Bill Hines and Bill DeCarr that worked at Barris Kustoms nosed and decked the car, shaved the handles and rounded the corners. After that Larry painted the car with six coats of pearl over a fine metallic silver base. Larry didn't tint the pearl with transparent mixing black toner that eliminated the cloudiness and he thought the car turned out too bright. Larry thought the bright look made the car look way too large, so in order to fix it up, Larry taped the panel lines of the bird with 1-3/4 inch tape and shot candy apple burgundy over it.[3] With this paint job many think that Larry invented the Panel Paint Job. The Thunderbird was the first car featuring a silver pearl and candy burgundy paint job, but before he painted panels on his own car he had already paneled Zeno Stephens' 1955 Mercury. Zeno wanted something different, no scallops or flames, so Larry body paneled it. Larry painted the car in Tahitian Red and striped it in gold. After painting the car Larry never saw it again, not in a magazine, or at a car show, nowhere.[2]

One day George Barris called Larry and asked if he could do some paneling on the Rod & Custom Dream Truck. Barris was just starting to paint candies, and he'd shot candy lime over silver. There were a few mistakes, so he called Larry and asked if he could cover them up with scallops in Candy Burgundy over silver metallic. In 1958, not long after painting the Rod & Custom Dream Truck George called Larry again, and asked if he could take over the paint department while he, Dean Jeffries and Bill Carr were going back east on a 2 month tour. When George called they were building a pizza parlor in front of Larry's shop, so he said ok. When Dean Jeffries returned from his trip back east, Dean and Larry were kicking ass together, knocking out three or four scallop and flame jobs a day, and pinstriping their asses off in between. After about 4 months he relocated back to his own shop in Bellflower.[2]
In 1960 Larry applied his first Metalflake job on Ron Aguirre's Corvette, the X-Sonic. The X-Sonic also featured Watson's first fade paint job. As Aguirre kept modifying the car, Watson painted it six times.
Between 1960 and 1966 Larry got tired of all the masking and striping, and he started doing mostly straight candies with Metalflake or Pearl tops, or Pearl bottoms with matching Candy tops.[3] Larry was kicking ass working from 12 to 20 hours a day, 7 days a week. He had 5 or 6 helpers.[2] At the peak in 1966, Larry sold the shop he had on Lakeward Boulevard in Paramount, and moved to Mexico in order to pursue an acting career with his wife.
While the Cat's Away
When Watson moved to Mexico he left behind a big gap in the market, and while he was away, two other "Watson" custom paint shops sprung up in the area offering custom paint jobs to teenagers that didn't know better. One of the shops, Watson's Custom Kars was located in Downey. The other one, Watson's was located in Van Nuys on Burbank Blvd.
The Comeback
Late in 1966 Larry returned to California to open up a new shop in Bellflower. The new shop was located on 17412 Lakewood Blvd., on the corner of Artesia. Back in business, Watson made flyers that contained an important notice about the imposters that had been using his name while he was away; "Larry Watson is not associated with Watson's Custom Kars in Downey and the Watson's in Van Nuys on Burbank Blvd. - And - Disclaims all responsibility of work coming from those locations. To whom it may concern! It's only a Watson Paint Job when Larry Watson does the painting personally." Marshall Tripp worked for Larry between 1966 and 1967. At the time Ken McGoldbrick was the manager in the shop. In 2016 Marshall told Kustomrama that "Kenny was the "manager," although Larry was always there. He was a good guy and knew his stuff when it came to Larry's work. He taught me how things should be done." Marshall remembers that Joe Perez did Watson's interiors while he worked for him; "I remember Watson saying once "you'll never win best interior with black.""[4]
The Vegas Show Girls
Marshall Tripp remembers that Larry once took a few days off and went to Las Vegas; "A week later, he was out to lunch and these four Vegas showgirls show up to see him. As a young fellow, I was very pleased to host them until he returned."[4]
House in the Hills
When Marshall Tripp worked for Larry, Watson had a house near the shop. Around 1966 - 1967 he bought a house in the Hollywood Hills. Marshall once drove him to the house to check progress on the remodel work. Brian Epstein of the Beatles lived two houses to the west or north.[4]
After Larry had opened up the shop in Bellflower, he determined that he had to get his name back on the show circuit, so he decided to do something completely new for the upcoming show at the Los Angeles Sports Arena in April 1967. Larry was painting Doug Carney's 1963 Pontiac Grand Prix for the show, and decided to do a lace paint job on the car. Ha had never tried the technique before, but Von Dutch had told him about a doily that ha had on a bench in his shop. One day while cleaning up in the shop he had removed the doily, and a beautiful overspray pattern had been left on the bench. Von Dutch dug the design and painted clear all over it. While wondering about what to do with Doug's Pontiac, Larry remembered this story and decided to paint the whole side of the car using a lace pattern with Lucky Lager Double X Pattern. Many believe that custom painter Joe Andersen invented the technique as he demonstrated it in the Rod & Custom March 1968 issue, one year after Larry painted Doug's Pontiac.[3] Larry's newly painted Pontiac made its debut at the April 1967 show together with 53 other cars in the center arena of the car show, which was sponsored by the Tridents Car Club. At the same show, he also had over two dozen motorcycles upstairs.[2]
After the 1967 Tridents Rod Custom Autorama Watson he figured that he couldn't get any further, so he decided to sell his shop and get out of the business.[2] He left the custom car scene in favor of a blossoming TV and movie acting career. He painted and striped numerous luxury or sports cars for actors, actresses, directors, producers, or casting directors to gain entree. Between 1967 and 1985 Larry ended up in 141 different shows, such as MacGyver, Columbo, and Mission Impossible.[5]
In the early 1970s, David Mirsky was a neighborhood kid that worked for Larry part-time at his shop on Santa Monica Blvd in West Hollywood, and at his Melrose Avenue shop in Hollywood. David was one of those kids that hung around Larry's shop, that after a while was put to work. He was around 15 or 16 years old at the time, and Larry used him to take parts of cars, prep them for work and paint, color sanding and all sorts of other tasks. He was paid in hamburgers and fun, and he recalls working on Evel Knievel's jet bike, something that was really cool for a 15 years old kid. To David and his friends, Larry was the coolest guy they had ever met. He was a magician with cars and a good looking guy always looking for acting gigs. To David, Larry was who Burt Reynolds copied himself after. David remembers that Larry always had a slim cigar in his hands. He used the cigar as a prop when he made his points. David worked for Larry for a short period of time, and he remembers him as a good guy that always treated him as a friend. Larry painted a Bell Star helmet for David in 1971 that he still owned in 2013.[6]
The Paint Booth
In the late 1970s Larry Watson worked on a movie he wanted to produce called "The Paint Booth". Working for the movie he visited car shows handing out flyers on cars he wanted to use in the movie. For the movie, Larry was looking for racers, hot rods, customs, and stocks 1956 or older. The backside of the flyer shows a print of Larry's business card. On that card, he promotes his business as "Watson's Custom Auto Painting", Since 1955. His shop was located at 5576 Melrose in Hollywood. On a later business card, he had changed the name to "Theatrical Auto Body", Complete Auto Painting Since 1969. The shop was still located at 5576 Melrose Avenue in Hollywood.[7]
Private Museum in Apple Valley
Larry retired in Apple Valley, California, and spent much time creating his private museum loaded with pictures and artifacts from his custom car and TV days. Since 2008 Larry Watson and Gene Winfield have been hosting a hot rod and custom car show at Gene Winfield's shop in the Mojave desert. The first show called Gene Winfield and Larry Watson Custom Car and Hot Rod Gathering was held October 19, 2008.

Larry Watson passed away at the age of 70 on July 20, 2010. He is deeply missed.
Larry Watson's Personal Rides
Larry Watson's 1950 Chevrolet - Grapevine
Larry Watson's 1957 Cadillac Eldorado Brougham
Larry Watson's 1958 Ford Thunderbird - Vino Pasiano / The Burgundy Bird
Larry Watson's 1959 Cadillac 62 Series Coupe
Larry Watson's 1962 Cadillac

Cars Painted and Pinstriped by Larry Watson in his Parents Driveway
Larry Watson's 1950 Chevrolet
Santo Vasques' 1950 Chevrolet Convertible
Buzzy's 1950 Ford
Jake Bultsma's 1951 Chevrolet Bel Air
Hayward Mendenhall's 1953 Ford F100
Bob Schremp's 1954 Chevrolet Bel-Air
Duane Steck's 1954 Chevrolet - The Moonglow
Danny Purinton's 1956 Mercury

Cars Painted and Pinstriped by Larry Watson at Watson's House of Style
Click here to see cars painted or pinstriped by Watson's House of Style

References
Sources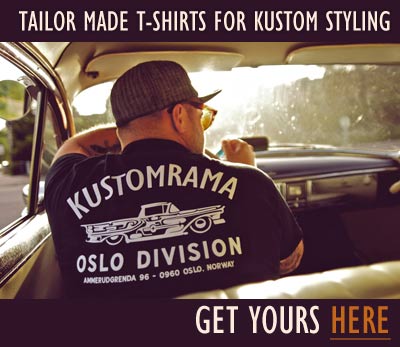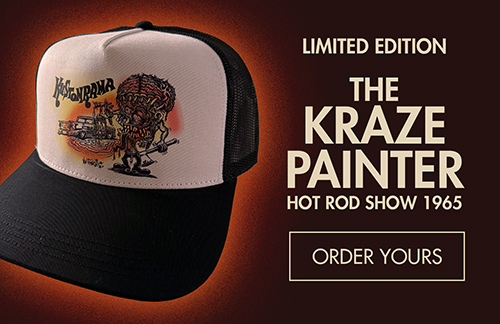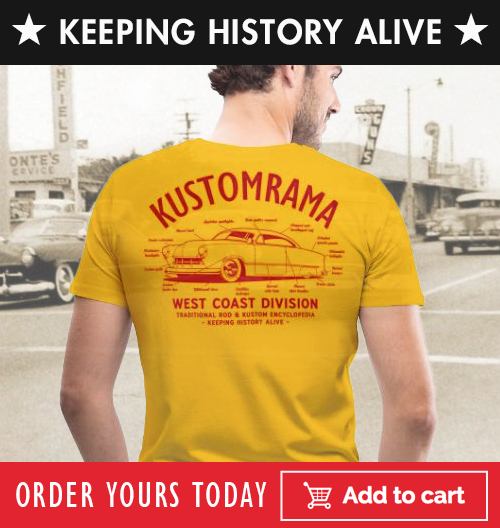 Did you enjoy this article?
Kustomrama is an encyclopedia dedicated to preserve, share and protect traditional hot rod and custom car history from all over the world.
Can you help us make this article better?
Please get in touch with us at mail@kustomrama.com if you have additional information or photos to share about Larry Watson.



This article was made possible by:
SunTec Auto Glass - Auto Glass Services on Vintage and Classic Cars
Finding a replacement windshield, back or side glass can be a difficult task when restoring your vintage or custom classic car. It doesn't have to be though now with auto glass specialist companies like www.suntecautoglass.com. They can source OEM or OEM-equivalent glass for older makes/models; which will ensure a proper fit every time. Check them out for more details!

Do you want to see your company here? Click here for more info about how you can advertise your business on Kustomrama.